"I myself would not have made it, if it had not been for the social support of my cat. She has seen me through some rough times." - Gloria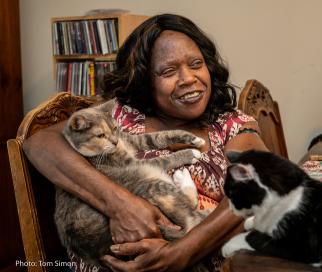 In 2022, MOWOCNC launched MOWOCNC Loves Pets! to help older adult recipients care for their companions. 
500 pounds of food along with requested supplies have been delivered to date!
Why is MOW now delivering pet food and supplies and helping to care for recipients' pets?
Because we recognize the immeasurable value pets have on the emotional and social well-being of our recipients. Supporting recipients' ability to care for their pets helps ensure that recipient meals will not be shared with their pets and helps alleviate the stress and burden of pet care.
With your support we can do even more!
We are looking for community members to join our pet program committee to help develop and sustain our pet services and for donors who are willing to support the program through in-kind or monetary donations.
Both Phydeaux in Chapel Hill and Paws at the Corner in Hillsborough have collection boxes in their stores for MOWOCNC. Shop local for your pet and drop something in the donation box!
Donations can also be dropped off or shipped to the MOWOCNC main office at 632 Laurel Hill Road, Chapel Hill Monday-Friday between 9AM-12:30PM.
 To learn more or get involved, email opcoordinator@mowocnc.org or call 919-942-2958 ext. 2